Use all the space
Experience greater flexibility with the MW5000H intelligent oven. Designed with the most busy families in mind, you can pull out the turntable to use all the interior space to easily introduce large square plates. A step forward compared to similar appliances: now you can heat faster pans and larger casseroles, having more time to sit at the table.
Healthy cooking is even easier
A variety of fresh and healthy food at your fingertips with 15 cooking modes pre-set on Samsung MW5000H intelligent oven, equipped with a cooking function for fragrant foods, tasty and cooked to perfection. Now you can cook everything in a practical and safe way: from broccoli to rice, from chicken breast to salmon fillets.
Homemade yogurt at any time
Enjoy a homemade dough or yogurt at any time with the fermentation function, which uses advanced fermentation technology to set the exact temperature, giving you and your family even more options for breakfast, lunch or dinner. fresh and delicious.
Ban the smells of the food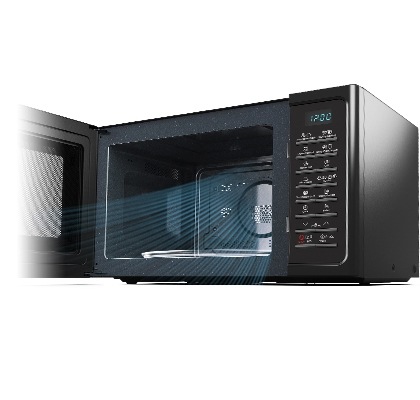 Strong odors will not persist inside the Samsung MW5000H intelligent oven. Just select the Deodorizing setting to let the internal air dissipate outside. This function quickly eliminates unpleasant odors so foods always smell fresh and delicious.