Wonderfully simple, always efficient
Thanks to a high energy class, this dishwasher ensures perfect crockery, saving you energy, time and effort. The baskets slide in a smooth motion and can be configured to load items of various sizes. And the door opens by itself – more convenient than that!
Less energy, same effectiveness
High energy efficiency
Less energy, but always efficient washing of dishes thanks to the high energy efficiency class B / C, in accordance with the new European energy labeling system, in force since 2021 *. A system that has been shown to consume less energy without compromising washing performance or sacrificing functionality.
* Energy class B: DW60A6092 ** and DW60A6082 **, energy class E: DW60A6090 ** and DW60A6080 **.
More convenience
Soft Railing
Thanks to the Soft Railing system, removing baskets full of dishes has never been easier and safer. The system uses ball bearing slides to reduce friction and allow smoother, smoother movements with minimal effort even with heavy loads. In addition, thanks to less shaking, it reduces the risk of dishes falling.
Flexible loading
Arrange plates, cups and glasses in an easier and safer way. The tines of the intermediate basket can be adjusted to 3 different angles using a special lever, while those of the lower basket fold to make room for large dishes. And with the special cup holder even the most delicate objects, such as goblet glasses, will be safe.
Auto Adjust
Load plates of different sizes and shapes more easily. Thanks to the Auto Adjust system you can quickly raise or lower the upper basket with a single gesture, gaining space in the lower basket to place plates of different sizes and shapes, but also tall pots, trays and serving plates.
Third basket convertible in metal
Make the most of your dishwasher's loading space. The third convertible metal basket at the top of the appliance has a dedicated area for cutlery and small utensils, freeing up space at the bottom. It also allows you to load and unload dishes more easily, because it can be removed and placed elsewhere.
Automatic opening to expel steam and speed up the drying process
Auto Open
The Auto Open function guarantees dishes that are always clean and shiny. Once the rinsing and drying process is complete, the door opens automatically by 10 cm to expel the steam without damaging the kitchen top and thus ensuring better and faster results than traditional methods, especially for plastic and large objects. reduced.
Sterilization of dishes
Hygiene Care
Hygienic rinse to eliminate germs and bacteria. With some programs *, the Hygiene Care option extends the final rinse and raises the water temperature to 70 ˚C **. This allows for deeper cleaning and kills 99.999% of bacteria **. To have dishes, cutlery and kitchen utensils that are always safe to use.
* Not available with the Auto program. ** Based on tests conducted by Intertek, placing a bacteria-contaminated test cup in the dishwasher and counting the number of bacteria before and after washing with the Eco + Sanitize cycle. It removes 99.999% of certain types of bacteria, including Escherichia coli, Salmonella enteritidis and Listeria monocytogenes. Individual results may vary.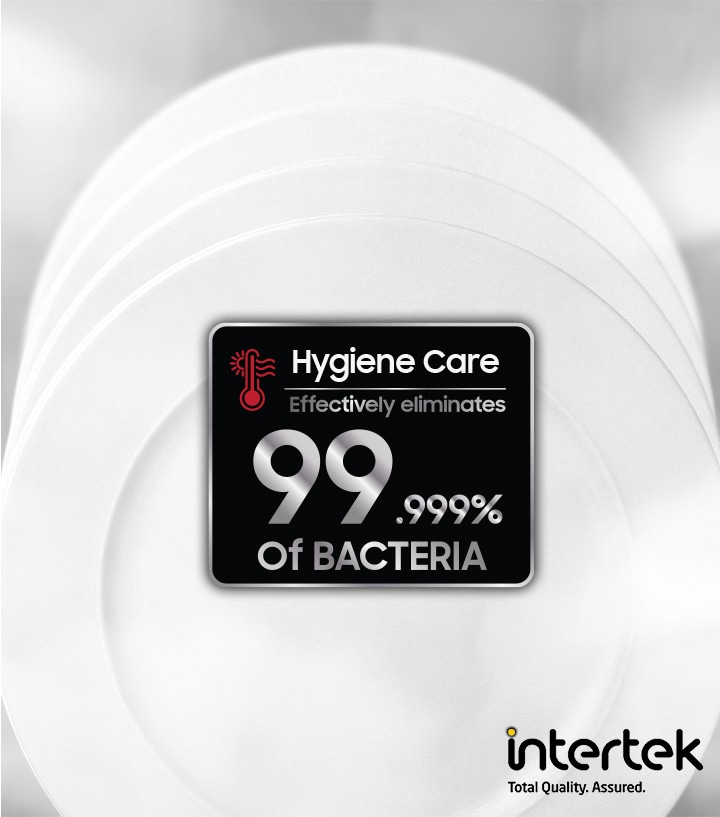 Fresh and clean interior
Auto Cleaning
Keep your dishwasher clean and sanitized with an eye on the environment – and on your pocket. With the Auto Cleaning function you can wash it by simply pressing a button: the program removes the dirt and bacteria responsible for unpleasant odors that form inside the compartment, using only water, without adding aggressive detergents.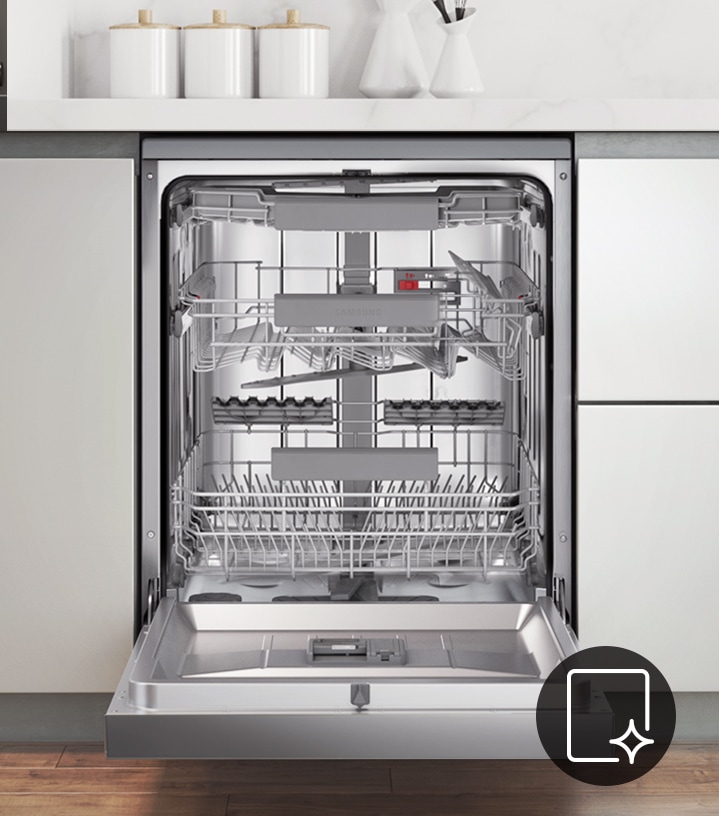 Prevention of dangerous water leaks
Aqua Stop
The Aqua Stop safety function prevents any damage caused by the accidental leaking of water: if it detects minimal traces of water, it cuts off the water and electricity supply, stopping the dishwasher. By doing so, it prevents electric shocks and costly water damage.