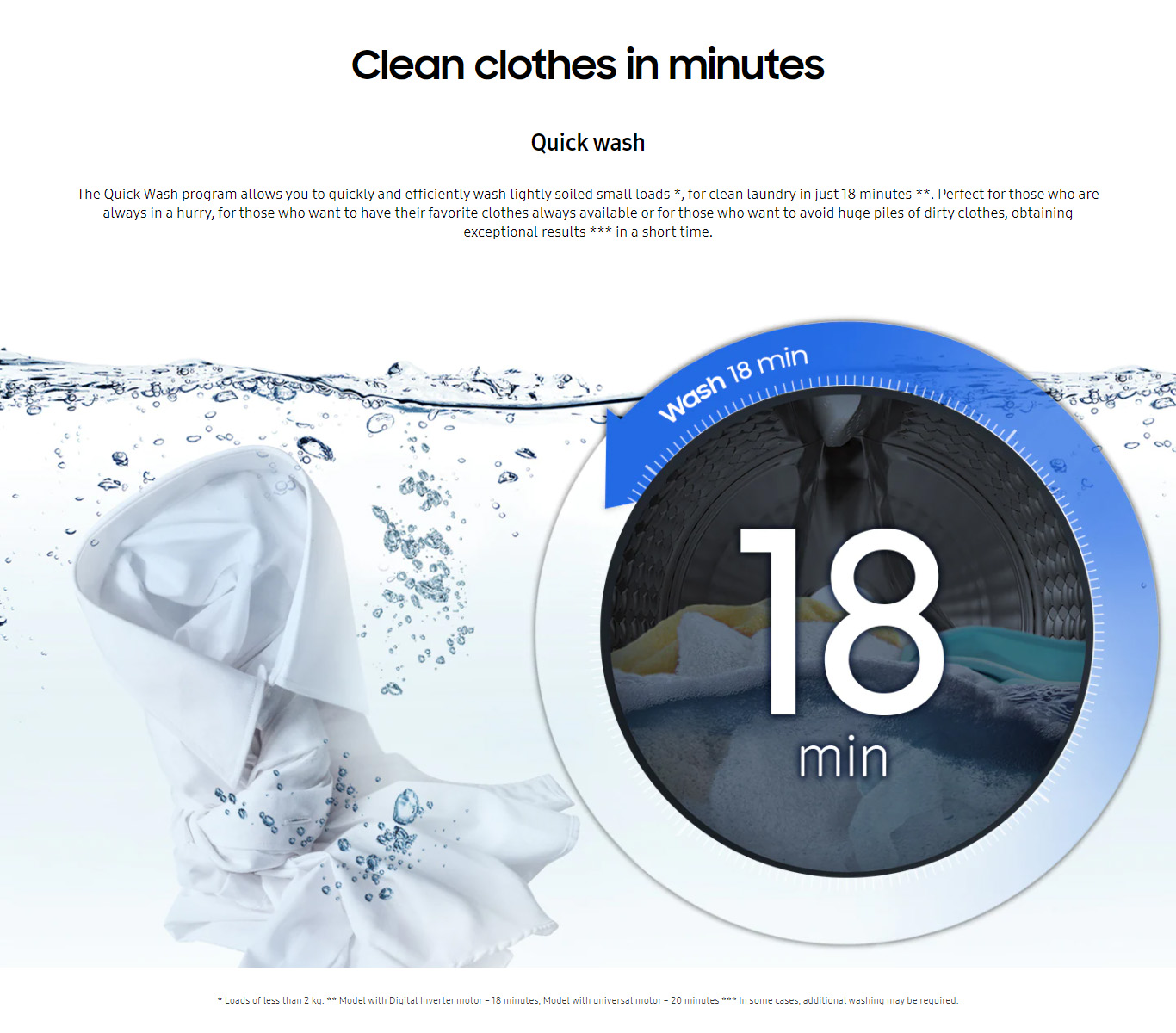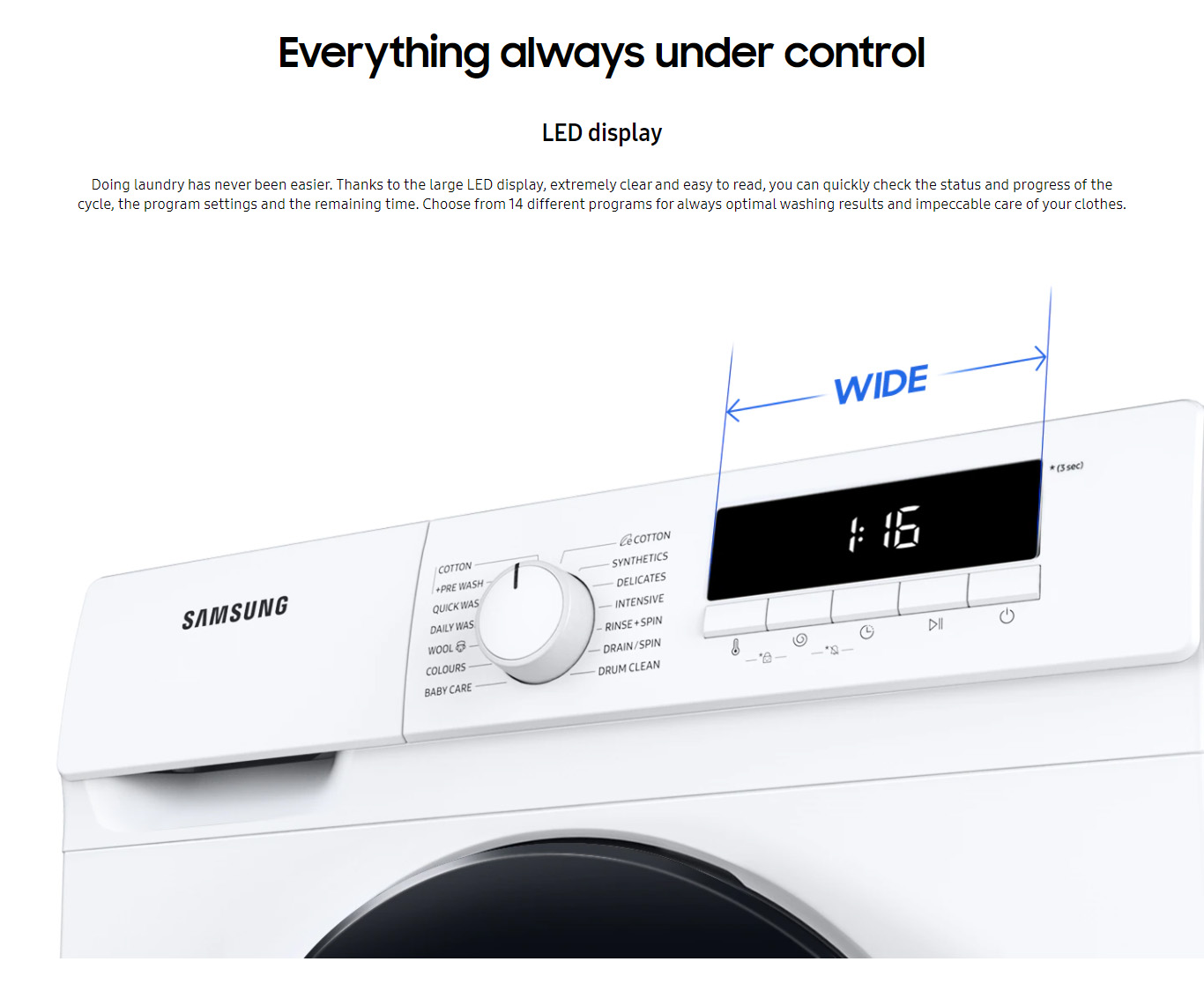 Full Specifications and Details:
Washing capacity
Washing capacity (kg): 8.0 kg
Design
Body color: White
Door color: White
Display: LED
Performance
Energy efficiency class: D
Energy consumption (100 cycles): 73 kWh
Water Consumption (For Complete Cycle): 48 L
Duration of the Eco 40-60 (H: MM): 3:38
Centrifuge efficiency class: B
Noise class: B
Centrifugal noise dB (A): 73 dB
Features
Child Safety (key lock): Yes
Delay End: Yes
Fault Check Indicator: Yes
Engine: Digital Inverter
Max spin speed (n ° rpm): 1200 rpm
Programs
Eco 40-60
+ Pre Wash
Sensitive skins
Cotton
Cotton (EU 1061/2010)
Colored
Water drain / Spin
Basket Cleaning
Intensive
Mixed
Quick Wash 15 '
Rinse + Spin
Synthetics
Wool
Physical specifications
Net dimensions (WxHxD *): 595 x 850 x 465 mm
Net weight: 58 kg
Clean clothes in minutes
Quick wash
The Quick Wash program allows you to quickly and efficiently wash lightly soiled small loads *, for clean laundry in just 18 minutes **. Perfect for those who are always in a hurry, for those who want to have their favorite clothes always available or for those who want to avoid huge piles of dirty clothes, obtaining exceptional results *** in a short time.
* Loads of less than 2 kg. ** Digital Inverter motor model = 18 minutes, Universal motor model = 20 minutes *** In some cases, additional washing may be required.
Eco Cleaning Basket
Keep your washer and seals * perfectly clean at all times
Eco Cleaning Cestello cleans the inside of the washing machine, eliminating 99.9% of the bacteria responsible for bad odors *, without having to use aggressive chemicals. In addition, the friction generated by a powerful jet of water and the rapid spin cycle remove dirt from the rubber door seal. The washing machine will remind you when a new cleaning cycle is needed **
* Eliminates 99.9%; bacteria inside the washing machine responsible for bad odors, according to Intertek tests. ** every 40 washing cycles.
Always fresh laundry
Delayed End function
With the Delay End function you can postpone the end of a wash cycle by up to 24 hours. This way you no longer have to leave wet clothes in the washing machine for too long, thus avoiding the formation of creases and unpleasant odors. Schedule the end of the wash when you prefer so that your laundry is ready when you get home.

Everything always under control
LED display
Doing laundry has never been easier. Thanks to the large LED display, extremely clear and easy to read, you can quickly check the status and progress of the cycle, the program settings and the remaining time. Choose from 14 different programs for always optimal washing results and impeccable care of your garments.