Click on Promotions now and check out the best offers available only from Soundmachine Dismiss

Look inside the fridge wherever you are
View Inside
Check what's in the fridge, anywhere, anytime, from your smartphone or home screen. Thanks to the internal cameras of the View Inside function * you will be able to see the inside of the refrigerator and easily check the food at your disposal, without opening the door or while you are shopping. You can also create shopping lists, notes or reminders.
* Camera lens according to model: RS6HA8891 **, RS6HA8880 ** with an ultra wide angle lens.
Shop more efficiently and with less waste
From Shopping List to online shopping
Plan your meals and buy only what you need with the Shopping List app. With a simple gesture or a voice command, you can add any item or ingredient to your list and then transfer them to the cart of your favorite online store *. Or, by synchronizing the list with your smartphone, you can check it while you are in the supermarket.
* Supported ecommerce providers: UK – Tesco, Asda, Waitrose, Ocado, Sainsbury's, AmazonFresh UK; Germany – AmazonFresh DE, Bringmeister, REWE.
Suggestion of the optimal cooking settings
Recipe to Oven function
Make your dishes saving time and effort. With the Recipe to Oven function, Family Hub suggests the most suitable recipes for smart ovens * and monitors their preparation. From "Smart Recipe", select a recipe and click on the "Send to Oven" button to send the optimal cooking settings to the oven.
Watch phone or TV while cooking
SmartView (Phone / TV Mirroring)
Watch TV shows or access online content. Thanks to a widget you can quickly launch the most popular video streaming apps or social media. With the SmartView application you can also view the content being broadcast on any Samsung Smart TV * and view and control the thousands of applications available on your smartphone **.
* Compatible TVs: 2015-2017 Smart TV models: J / K / MU6400 series or above; 2018 Smart TV models: NU7400 series or higher; 2019 Smart TV models: Q60R series or higher; Smart TV models 2020-2021: Q70 series or higher and Lifestyle TV (The Frame, The Serif, The Sero – excluding The Frame 32 "). Check compatibility information for new TVs on samsung.com. Function not available in case Samsung TV software change. ** Compatible with all major apps installed on Samsung Galaxy S6 or later models with Android 8.1 or higher operating system.
Easily share family moments and news
Family Board
Enrich family life by easily sharing news, messages, special moments and new snaps and videos on the Family Board. Use the home screen to share photos and videos, post stickers, draw pictures, type or handwrite notes, share schedules and website links, or even add a music player.
Don't forget the most important family events
Calendar
Make sure you remember all family commitments. With the Calendar app, you can share and check the commitments of all family members at a glance. You can update items from your fridge or smartphone and sync your to-dos with Google and Microsoft calendars *. So you won't forget the important dates!
* To use a personal calendar, such as those from Google and Microsoft, you must first link your Samsung account.
Let your fingers do the talking
White Board
Don't waste time searching for pen and paper to leave personalized messages for family members. With the White Board application you can use your fingers directly to draw or write and you can also add emoticons and easily reply to messages.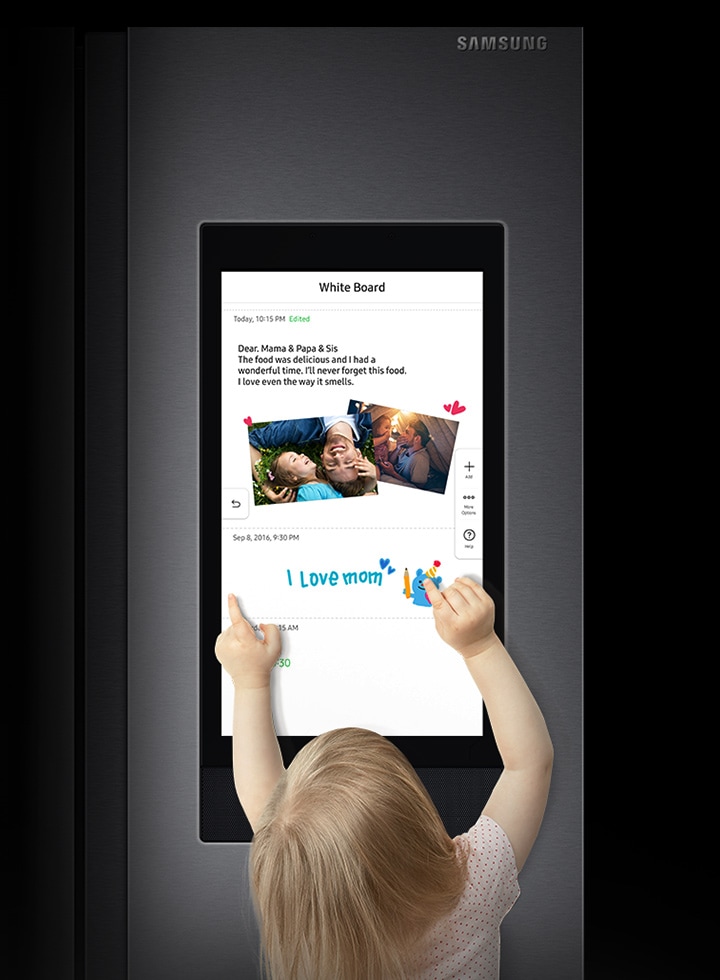 Control your home smarter
SmartThings
Make your home smarter with SmartThings *. Using your voice or a button on the screen, you can instantly control all smart devices: you can turn them on / off, adjust their settings, coordinate activities and limit energy consumption. And with a dedicated widget, you can even monitor up to 6 cameras installed throughout the house.
* Available on Android and iOS devices. A Wi-Fi connection and a Samsung account are required. SmartThings Video is available in the UK and France, Germany, Italy, Poland and the Netherlands.
Discover a smarter way to live
Bixby
Make your life easier and more efficient with Bixby * used on Samsung Galaxy smartphones. Whether it's setting an alarm or recommending a recipe, just ask and he'll respond to your commands. It even adapts to your needs by learning from your habits and preferences, to offer you even better support.
* Bixby is the Samsung-branded voice assistant for controlling AI (Artificial Intelligence) / IoT (Internet of Things) devices. * Bixby supports different languages ​​depending on the country. Bixby is available in English, French, German, Italian and Spanish. Not all accents, dialects and expressions are recognized. The list of functions that can be managed with Bixby voice commands is constantly expanding. Mobile functionality compatible with Samsung Galaxy 8 series or above with Bixby functions. To fully manage Bixby features, you need to log into your Samsung account and have a data network (Wi-Fi or Internet connection). Voice assistance services can be suspended or terminated at any time.
Look who's at the door from the kitchen
Ring
See who rang the doorbell without leaving the kitchen with the Ring app. When someone rings the doorbell * or activates the motion sensor, a notification arrives on the Family Hub screen and a video appears where you can see who is at the door and talk to them.
* Compatible with Ring Video Doorbell Elite / Ring Video Doorbell Pro with Chime Pro / Spotlight Cam Mount / Spotlight Cam Wired / Stick Up Cam Battery / Video Doorbell / Video Doorbell 2 / Video Doorbell 3 / Video Doorbell Pro.