Click on Promotions now and check out the best offers available only from Soundmachine Dismiss

More space inside, same size outside
SpaceMax ™ technology
With an internal capacity of 634 liters *, it increases the space for storing food. The unique SpaceMax ™ technology uses a special high-density urethane coating that allows for much thinner internal walls, without compromising energy efficiency. This improves the internal capacity with the same external dimensions.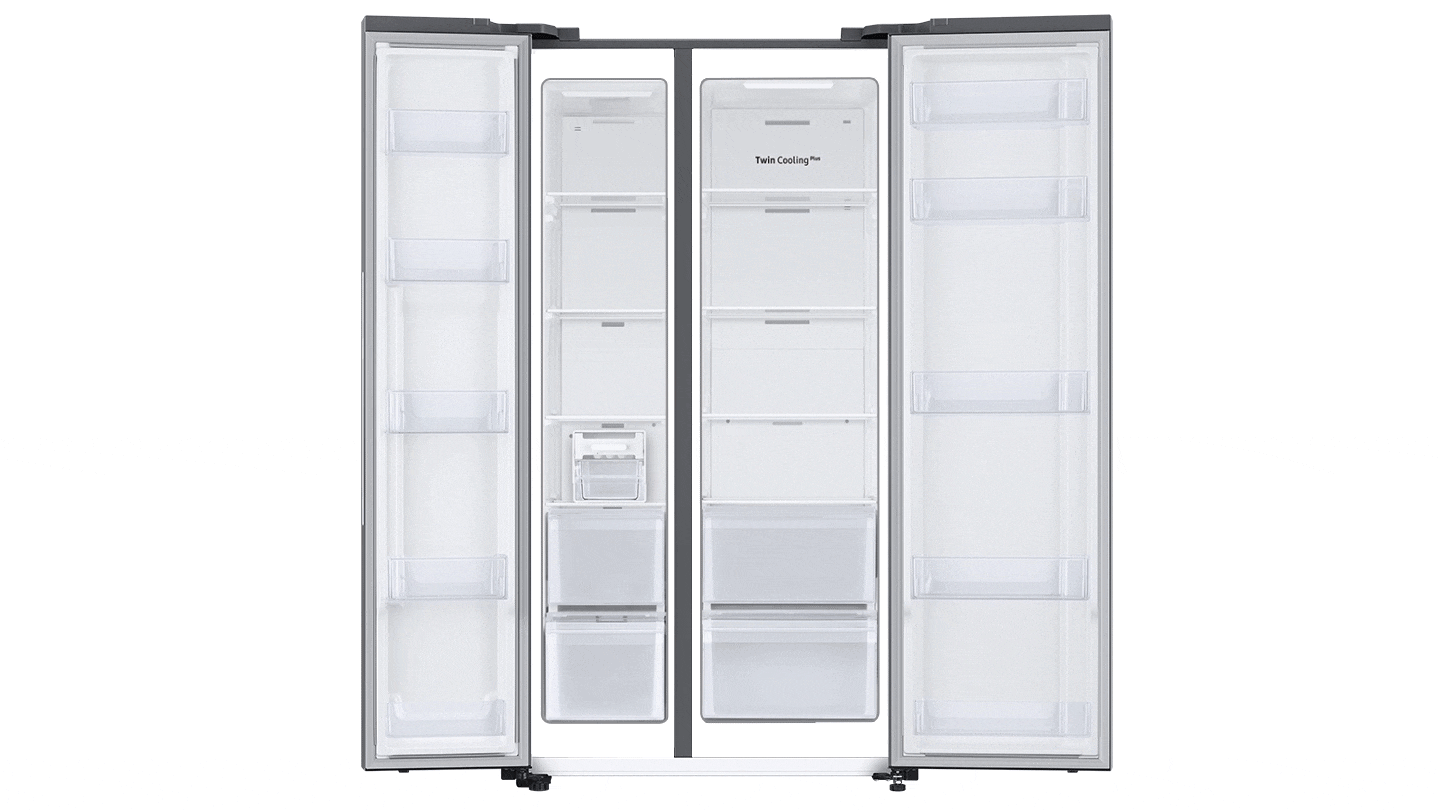 * Capacity varies by model.
5 conversion modes on request
Smart Conversion ™
The Smart Conversion ™ feature gives you the ultimate in storage flexibility. Using the Twin Cooling technology, you can choose between 5 different modes, to easily convert the freezer into a refrigerator and have more space available for fresh food. Activate the OFF mode * to save energy or use the freezer as a small fridge.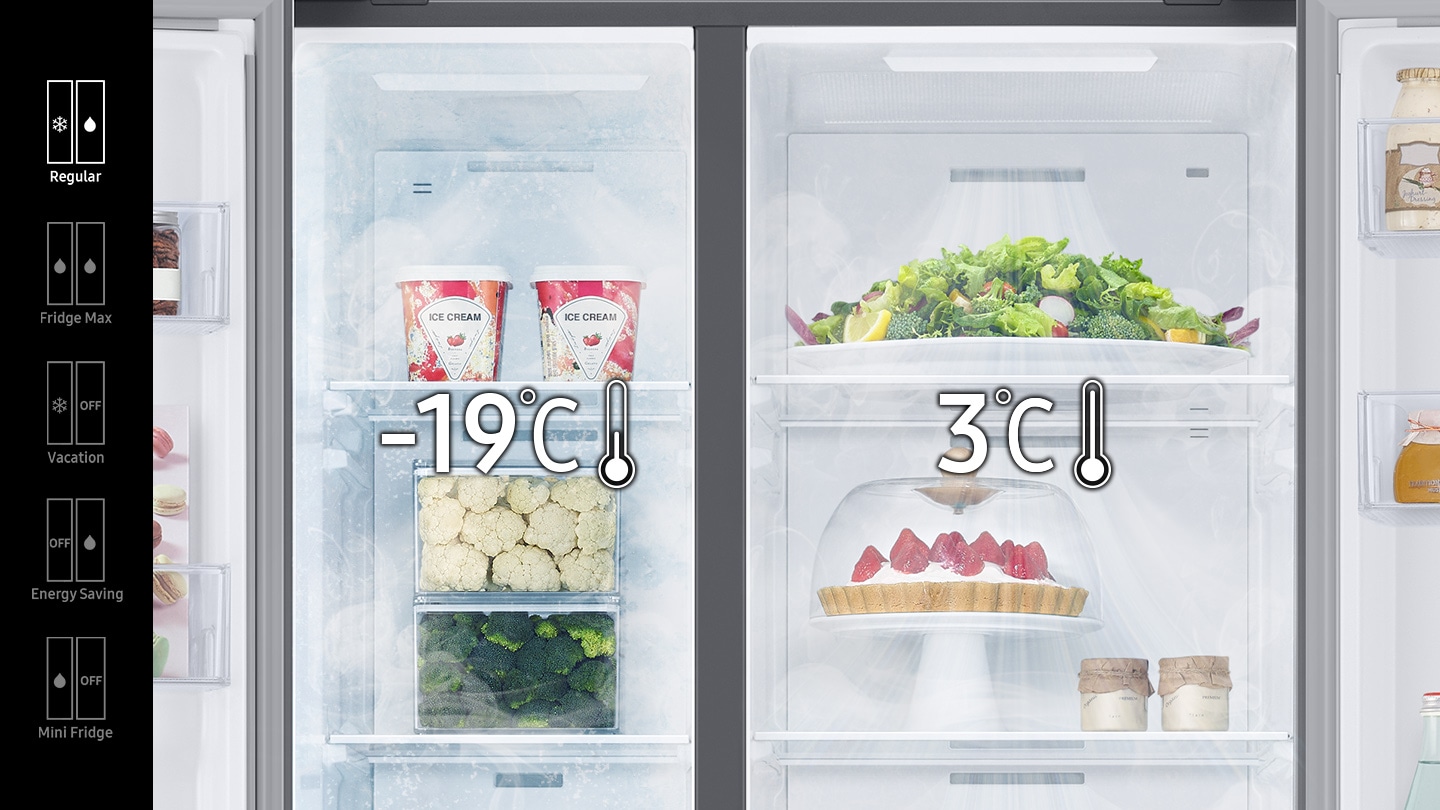 * When the refrigeration or freezing functions are in OFF mode, the temperature of the compartments remains below 15 ° C to avoid the formation of mold and bad odors and to save energy. Refrigerator and freezer cannot be switched off independently. DO NOT STORE FOOD OR DRINKS IN THE REFRIGERATOR WHEN THE REFRIGERATION OR FREEZING FUNCTIONS ARE OFF. A TEMPERATURE OF 15 ° C IS NOT SUFFICIENT TO AVOID DETERIORATION.
Optimal freshness with independent cooling
Twin Cooling Plus ™
Make sure your foods stay fresh, without drying out, twice as long *. Thanks to an independent cooling system, Twin Cooling Plus ™ technology optimizes the temperature and humidity inside the freezer and refrigerator. Foods keep better and odors do not spread from one room to another.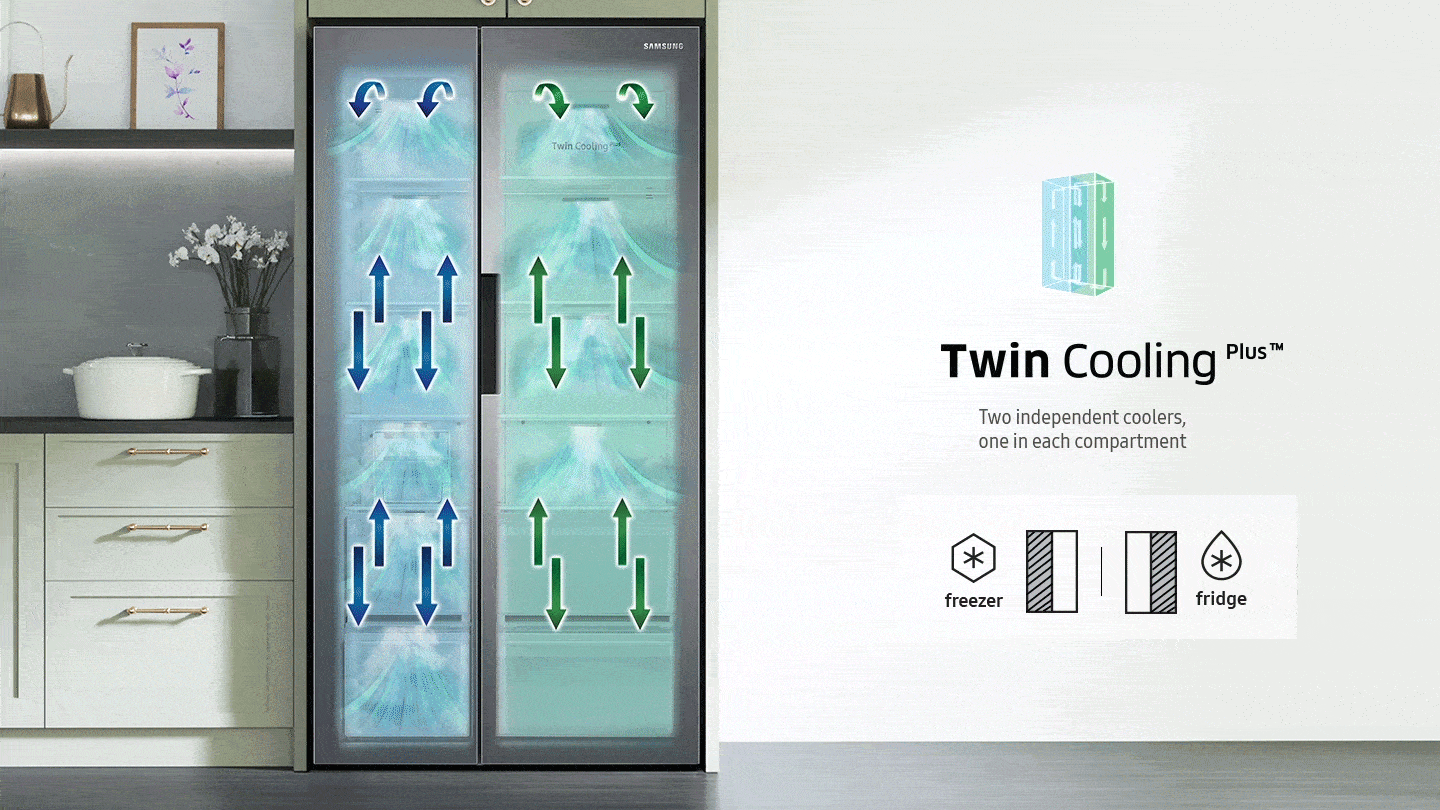 * Based on in-house testing versus a conventional cooling system.
Elegant and harmonious design
Integrated look
Give your home a modern look that is elegantly aligned with existing appliances and furniture, creating a kitchen with a harmonious interior. The minimalist design features flat doors, recessed handles, a hidden display, a wine shelf, and food containers and drawers *.
* Optional. Only available in some models.
More space for storage, less waste
Flat duct
Greater capacity and efficient performance. Unlike conventional ducts, the thin cooling fan in the rear wall is completely flat, minimizing dead space and providing more convenience for food storage. Cooling and ventilation maintain optimal performance, for always fresh and tasty food.
Easy accessibility
Easy Access Control
A simple and elegant command, even in the event of movement restrictions. With Easy Access Control, which further enhances the minimalist design of the appliance and is discreetly hidden inside, the controls are easily accessible, even from a wheelchair, and can be used with just one hand, to ensure full accessibility even to people. with disabilities.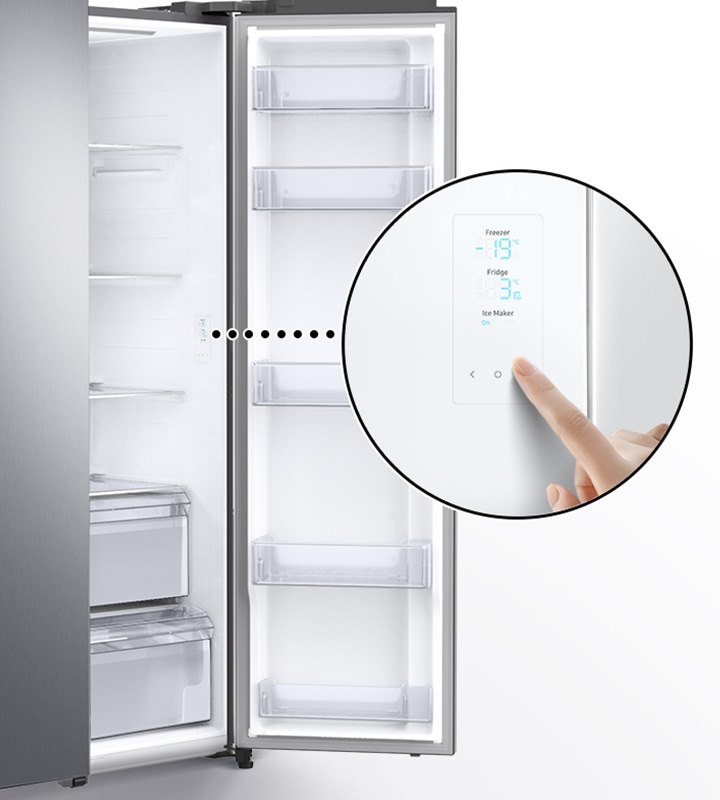 Less consumption, more silence
Digital Inverter technology
To save energy and minimize noise. Unlike traditional models, the Digital Inverter compressor automatically adjusts its speed according to the actual need for cooling. And with an output of just 37dB (B) it is extremely quiet. In addition, it complies with the new energy regulations, also allowing for economic savings.
Uniform freshness
Precision cooling
Preserve the freshness, flavor and texture of your food for longer, thanks to separate cooling systems that guarantee uniform cold in every area of ​​the refrigerator. An advanced insulation system reduces fluctuations, regardless of the outside temperature. In addition, the Digital Inverter technology detects and controls the temperature precisely.
Fast cooling and freezing on demand
Power Cool / Power Freeze
Speed ​​is also important. At the push of a button, the Power Cool function quickly circulates cold air in the refrigerator to quickly cool food and drinks. The Power Freeze function creates a quick blast of cold air in the freezer. It is the best for freezing or cooling food at the right point, but also for making ice.